Admissions
Because of small class size, admission to BC College of Optics is limited and on a 'first-come' basis. Our Dispensing Optician/Contact Lens Fitter program has the following prerequisites:
(a) Grade 12, or equivalent, with elementary Algebra.
or
(b) Mature Student (out of school a minimum of
2 years) with elementary Algebra.
A no-charge math assessment test is available only if a high school transcript is unavailable.
Registration is done "on a first-come basis".
Please note that these Admission Policies may not be waived by either the student or the College.
International Students
BC College of Optics is also designated by Canada Immigration as a post-secondary education institution for Foreign Student Study Permit purposes. Contact our Program Director for details.
Registration Fee is $250.00 ($350.00 if outside North America). To save your seat register early.
Note: United States (US) residents may enrol in the BC College of Optics opticianry program without the necessity of first obtaining a Foreign Student Study Permit, since our course of instruction is not longer than six (6) months. Following graduation our US students will be in a excellent position to pass both their ABO and NCLE National certification examinations, held in major US cities each year.
Financial Aid
BC College of Optics is designated by Student Aid BC (BC Ministry of Advanced Education) as a post-secondary institution whose students may be eligible for both BC and Canada Student Loans.
Student Loans may be available to Landed Immigrants and to residents of BC who have resided in BC for the past twelve (12) months. Canadians living in other Provinces of Canada should contact their own Ministry of Advanced EducationStudent Financial Assistance Branch for information on qualifying for Canada and Provincial Student Loans while studying at an Out-of-Province institution such as BC College of Optics.
Note: Student Loans may take up to twelve (12) weeks to process, so students should apply for them early.
Class Schedule
Our two (2)-semester, six (6)-month Day classes commence in the Spring and Fall of each year.
Next Available Class
Fall Afternoon Class
Nov. 20th, 2017 – May 25th, 2018
Monday through Friday 1:30 pm – 5:30 pm
Spring Morning Class
March 5th, 2018 – Sept 7th, 2018
Monday through Friday 8:30 am – 12:30 pm
*Call BCCO for further information
Business: 604-581-0101
Toll Free: 1-877-581-0106
Fax: 604-581-0107
e-mail: watsonsg@uniserve.com
*Registration is on a first come first serve basis
Fees & Costs
BC College of Optics offers a single course of instruction covering Ophthalmic Dispensing & Contact Lens Fitting, plus the basics of optical lab. Our tuition fee for the entire program is $13,670.00, plus approx $450.00 for textbooks.

School fees are paid on a monthly 'pay-as-you-go' basis and are interest-free, or (if you qualify) by government Student Loans.
Unfortunately, no BCCO Internet or distance-learning program is available,  only our 'in-house' training.
Job Placement
Although BC College of Optics is not a placement agency, we do try to assist all graduates to secure employment following graduation. BCCO graduates must pass Prior Learning Assessments (PLAR) to be a licensed optician in BC or may work unlicensed for an Optometrist. Most graduates find employment in BC's optical field within three (3) months.
Class Size
BC College of Optics's average class size is 12-18 students. Smaller class size means that our students are in a better position to receive individual attention should they find difficulty with portions of our program.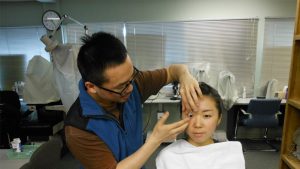 BCCO's curriculum has been examined as part of the Private Training Institutions Branch (PTIB) accreditation process, together with industry input. It contains all the learning competencies required to work both as a Dispensing Optician and as a Contact Lens Fitter.
BC College of Optics offers accessible, caring instructors who are expert in the fields of Ophthalmic Dispensing and Contact Lens Fitting.
BC College of Optics is centrally located with direct access to either SKYTRAIN'S 'Surrey Place' or 'King George Blvd' Stations, while also an easy vehicle commute from almost anywhere in the Lower Mainland of BC.
BCCO graduates can enter the workplace after only six (6)-months, much earlier than their public College Diploma optician counterparts, and can therefore expect to earn more than $30,000-$45,000 in real wages before their two (2)-year public College Diploma optician colleagues begin to earn their first paycheck.
BCCO is a small school, with overall average class size of only 17 students.
While all public College opticianry programs require certain Humanities and/or Liberal Arts credits as part of their Diploma programs, BCCO's Certificate program stays focused on teaching opticianry subjects exclusively.
Course Outline
History of Ophthalmic Lenses
General Introduction
Anatomy of the Eye
Eyeglass Frames
Cosmetic Frame Fitting
Ophthalmic Lenses
Spherical Lenses
Ophthalmic Tools and Supplies
Frame Adjustments
Astigmatic Lenses in General
Checking and Measuring Lenses
Interpreting the Prescription
Introduction to Bifocals
Trifocal and Progressive Lenses
Vertex Distance and its Relation to Effective Power
Optical Lab Procedure
Vertical Imbalance at the Reading Level, Slaboff & "R" segs
Principal Planes, Iseikonic Lenses, Lens Tilt
Ophthalmic Prisms, Edge & Centre Thickness, Cylinders not 90 apart, Vergence, Magnification
Spectacles for Aphakia
Lenses for Special Use
Field Trip(s)
Contact Lens

History of Contact Lenses
General Introduction
Anatomy of the Cornea
Optics of Contact Lenses
Corneal Astigmatism
Types of Contact Lenses
Contact Lens Parameters
Ordering a Contact Lens
Spheres, Front Toric, Back Toric, Bi-Toric, Flexure
Contact Lens Instruments
Variation from the Usual Contact Lens
Inspecting Contact Lenses
In-Office Modifications to Contact Lenses
Patient Instruction and Management
Interpreting the Patient's Symptoms
Contact Lens Training Video(s)